Banqueting at The Renai Cochin
We offer a choice of facilities tailor-made to accommodate both your personal and business requirement stylishly and with aplomb. Whether you are hosting a private bash for a select few, throwing a birthday party for your child, conducting a motivational seminar for your executives or hosting a wedding / engagement reception, launching a product, you can rest assured that our superb yet discreet services will have everything planned down to the tiniest detail so as to ensure that the event comes through with flying colors!
Menu options are endless, and our private banquet rooms vary in shape and size and can accommodate groups from 12 to 1500 depending on room setup and your banquet requirements. Located on the main road with ample parking facilities, our lawn near the pool side is large get-togethers and wedding receptions.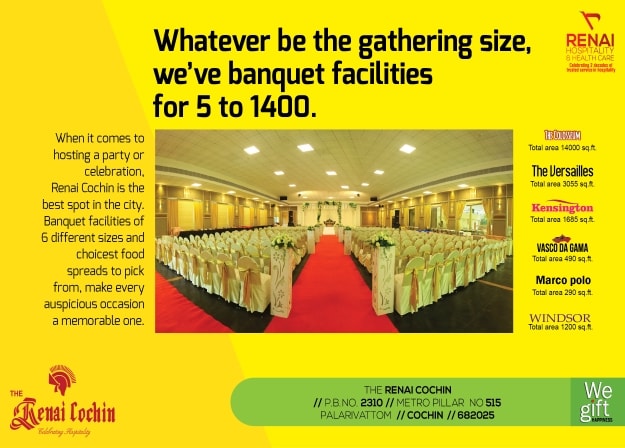 The Versailles
Perfect for a more intimate function, the Versailles banquet hall has a total area of 3,055 square feet. The hall could accommodate about 200 people in informal seating style.
The Kensington
Not just weddings, we also help you conduct more personal, simple functions, such as family get-togethers, birthday parties, seminars etc. The hall has a total area of 1685 square feet and has the capacity to accommodate about up to 60 people in an informal seating style.
Vasco Da Gama
Designed for those who like to keep their functions simple but at the same time grand. The hall has a total area of 490 square feet and could accommodate about 25 people in an informal seating style.
Marco Polo
The boardroom is one of our most sought after facilities as it offers the ideal ambiance for business meetings and crunch talks. The boardroom can host up to 10 persons at once.
The Colosseum
A perfect place for the big fat Indian weddings, the Colosseum banquet hall has a total area of 14,000 square feet and could accommodate 500 people in theatre style and about 2,000 people in informal style.
 Banquet Reservations and Enquires
Email: 
banquet@pghr.in
Phone:+ 91 934 995 6861
       Telephone: + 91 484 3931666 | 391 9000